Our Star-Spangled Story: A Homeschool Elementary American History Curriculum Review
When I first saw the email from Notgrass History that the Our Star Spangled Story American History curriculum for elementary grades was on the horizon I knew I had to get my hands on it!
We've been doing some roadschooling while vacationing over the last few years and I hadn't been having much luck finding an elementary American History curriculum for my 7 year old.
Many of the curriculum options I looked into didn't touch on US History until 5th grade and I wanted to start building that foundation of knowledge now to pair with our upcoming roadschool travels and visits to living history sites like Colonial Williamsburg.
Our Star-Spangled Story is a one year American History Curriculum and Literature course for elementary grades 1-4. Your child will meet famous and everyday Americans who have shaped the country!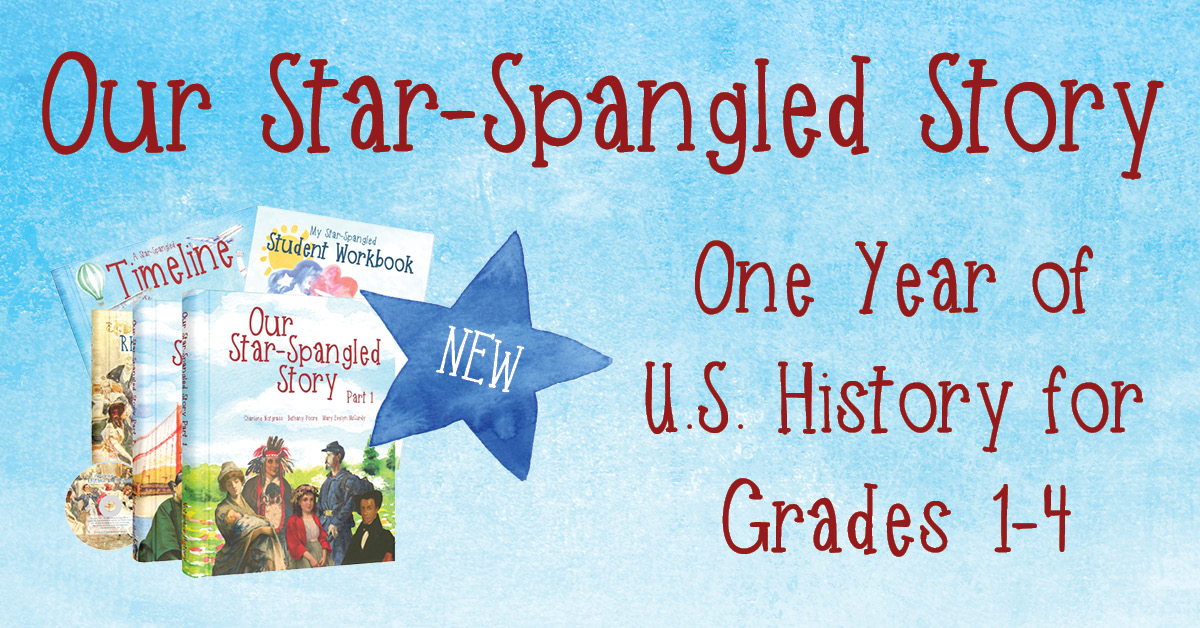 Our Star-Spangled Story Elementary History Curriculum
The two-part curriculum includes 45 narrative lessons that can be purchased with or without supplemental literature.
The Elementary Grade American History curriculum offers suggested hands-on activities and projects to bring history to life and takes into account the varying learning styles, abilities and levels of each individual child.
Parents can tailor the curriculum to their child's ability and there are suggestions and ideas at the beginning of the main textbook.
What is Included in Our Star-Spangled Story American History
Our Star-Spangled Story Textbook(s) Part 1 includes 45 lessons beginning with life in America before Europeans came and continuing through the late 1800s. Part 2 includes 45 lessons that go from the late 1800s through modern times.
Star-Spangled Rhythms and Rhymes – This is a collection of 60 songs, poems, and dances that comes with an MP3 CD. Each selection goes along with a particular lesson in the curriculum.

A Star-Spangled Timeline

– This engaging reference is the perfect way to reinforce and review key people and events from the lessons.

My Star-Spangled Student Workbook

– This book contains two handwork sheets and one review page for each unit. (This is the only consumable book in this curriculum.)

Our Star-Spangled Story Answer Key and Literature Guide

–

This book for parents contains answers for the lesson review questions in the text and the Student Workbook activities. It also includ

es a guide and discussion questions for the literature titles incorporated in Our Star-Spangled Story.
How to use Our Star-Spangled Story US History Curriculum
Our Star-Spangled story includes 90 lessons to spread over one full school year; thirty units with 3 lessons in each one. Easy daily instructions for using the matierals are included in the Part 1 and Part 2 textbooks.
Students can either read the lessons on their own or be read to – each lessons includes full-color photos, illustrations and art and should take about 10-15 minutes to read through.
At the end of each lesson are a list of suggested activites, somtimes a song or dance from Rhythms and Rhymes and reference to the Timeline book.
Students are expected to complete a page in the Student Workbook for each lesson and/or read additional supplemental resources or answer questions or complete a hands-on activity. Additional Student Workbooks can be purchased for $9.
Parents are encouraged to choose which activities work best for their families needs, abilities and resources.
Books Used in Our Star-Spangled Story – Literature Supplement
Eight works of literature are recommended to read along with the lessons in Our Star-Spangled Story.
Purchase Options for Our Star-Spangled Story Elementary Curriculum
The Our Star-Spangled story Curriculum Package
Includes the four full-color hardcover books as noted above and one consumable Student Workbook $85
Our Star-Spangled Story Literature Package
Includes eight literature titles highliting different time periods in American history $50
Our Star-Spangled Story Bundle
Includes both the Curriculum Package and one Student Workbook (additional workbooks can be ordered for $9) and the Literature Package. $135
How is Notgrass American History Homeschool Curriculum Different from Other U.S. History Curriculum
Notgrass History helps students and parents love history by combining easy to read narrative lessons, real letters, songs and stories from actual people, historical novels and hands-activities and projects for a variety of learning styles with a Christian worldview that upholds the Bible.
It was important for me to find an elementary grade American History curriculum to supplement our roadschooling adventures to places likeColonial Williamsburg and Jamestown.
We recently returned from a trip to Arizona and spent time visiting the Pueblo at Tuzigoot National Monument and we were able to tie in what we learned in the first few chapters of Our Spangled Story.
Watch a Flip-Through Video of Our Star Spangled Story
You may also like: